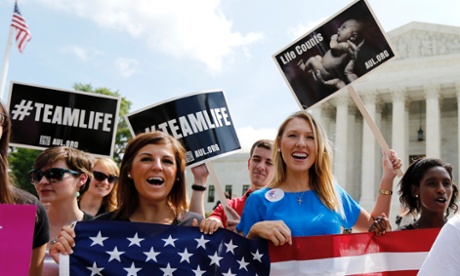 Anti-abortion protestors celebrate the supreme court's ruling striking down a Massachusetts law that mandated a protective buffer zone around abortion clinics. Photograph: Jim Bourg/Reuters
The US supreme court struck down a Massachusetts law ensuring a 35-foot protective "buffer zone" outside abortion clinics, ruling that it violated the first amendment by preventing the free speech of anti-abortion protesters.
In a unanimous decision, the court said the zone was too sweeping, intruding onto public sidewalks where free debate and leafletting traditionally take place.
The decision, which was relatively narrow, allows the state an opportunity to enact a new, less restrictive law. It did not overturn a previous supreme court decision in 2000, which upheld a buffer zone in Colorado.
The 2007 law was aimed at keeping protesters at least 35 feet from the entrance to prevent clashes between opponents and advocates of abortion rights that were occurring outside healthcare clinics.
"The buffer zones burden substantially more speech than necessary to achieve the Commonwealth's asserted interests," the court said.
The case was brought by seven Massachusetts petitioners, including Eleanor McCullen, 77, who have demonstrated for years outside the state's three abortion facilities in Boston, Springfield and Worcester.
They argued they are not anti-abortion protesters but peaceful "sidewalk counsellors" who want the freedom to talk to women entering the clinic. The buffer zone violates their right to free speech, they said, and the supreme court agreed.
"It is no accident that public streets and sidewalks have developed as venues for the exchange of ideas," the supreme court wrote in its opinion. "Even today, they remain one of the few places where a speaker can be confident that he is not simply preaching to the choir … In light of the First Amendment's purpose 'to preserve an uninhibited marketplace of ideas in which truth will ultimately prevail …,' this aspect of traditional public fora is a virtue, not a vice."
The majority opinion notes that the law is exceptional – no other states have a law that creates fixed buffer zones around clinics.
"It does, however, raise concern that the Commonwealth has too readily forgone options that could serve its interests just as well, without substantially burdening the kind of speech in which petitioners wish to engage."
The justices said that the state had failed to show that it had seriously undertaken less intrusive methods to deal with public safety concerns outside clinic, including injunctions against individuals causing problems.
Welcoming the ruling, Mark Rienzi, lead counsel in the case said: "Americans have the freedom to talk to whomever they please on public sidewalks. That includes peaceful pro-lifers like Eleanor McCullen, who just wants to offer information and help to women who would like it. The supreme court has affirmed a critical freedom that has been an essential part of American life since the nation's founding."
In a statement, state attorney general Martha Coakley expressed disappointment.